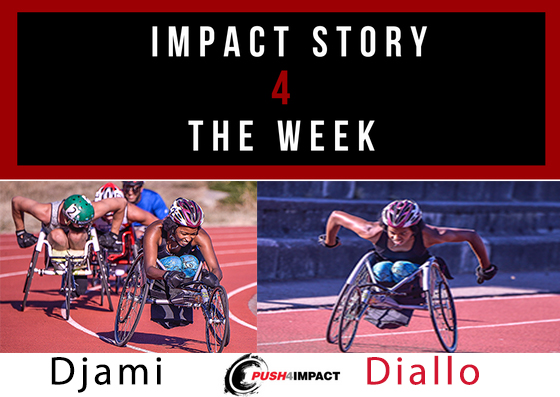 Djami Diallo is a teacher, a master's student and a wheelchair racer with BC Wheelchair Sports. Her story is our third Impact Profile.
Born with Cerebral Palsy, Djami was first introduced to wheelchair sports at the age of 13, after her physiotherapist invited her to a Have-A-Go Day where she tried a sports wheelchair for the first time.
"Up until that day, I'd only had a huge hospital wheelchair. It was hard to push myself around," she said. "For the first time, I had the feeling of having more freedom in my wheelchair and I realized I don't have to be limited in any way!"
Djami decided to pursue wheelchair racing, a sport that gave her an immense feeling of freedom.
"Racing is a very freeing feeling. You don't feel any pain. You just go. It's nice having the wind in your face or at your back."
Djami says that wheelchair racing had a huge impact on her self-confidence and personal development.
"I used to be shy in public and mostly feel really out of place before wheelchair sports. My involvement has made me more sociable and confident. These feelings don't disappear overnight, but now I have something that people want to hear about, which helps raise awareness around people with disabilities."
Awareness that Djami believes is important for everyone to have and she works to raise as both an athlete and in her career as a teacher.
"I have learned that as an athlete, I am sometimes not as confident as I should be, but that I am a good source of motivation for others. Competing can be very scary and if I can do that, I can take on most other tasks. I have learned that my failures are more impactful than my successes because I grow more as a person. My students take a lot of that taboo & "I" word from me: inspiration. It doesn't matter how big the success I've had to them; everything I bring back to the classroom can be a valuable lesson on life."
Sport taught Djami to be more confident, to face her fears and go after her goals which she continues to do as both a wheelchair racer and Master's student and says that people should support BCWSA to help unlock the potential in the next generation of people with disabilities.
"The power of sport for kids, youth and adults with disabilities is undeniable. Decreasing depression, increasing self-esteem, providing access (whether to assistive equipment or various opportunities) and giving people a healthy perspective on and outlet for their disabilities- these are just a few of the benefits of sports. To think that some people won't have that because they simply cannot afford it, or that they don't have access to resources, or equipment, is saddening. Finally it's important to donate because people with disabilities of all kinds matter and raising their profiles matters, so that others can see what great assets we can be to our communities."
You can help more athletes with disabilities discover their potential by supporting Push4Impact. Sign up a team today!
To learn more about wheelchair athletics please contact Ana [email protected] | 604.333.3520 ext. 209.