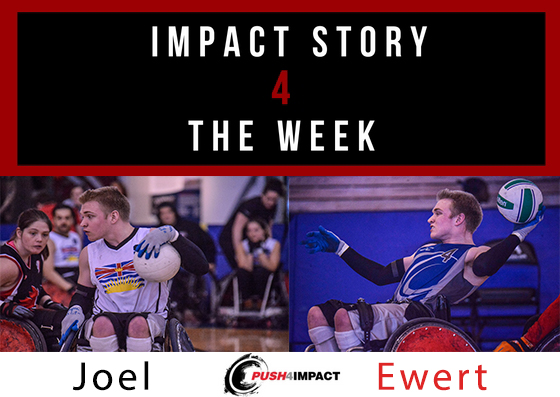 Each week leading up to Push4Impact, we'll be highlighting a BC Wheelchair Sports member and the impact that BCWSA has made on their life.
Next up in our Impact Stories is rising wheelchair rugby star Joel Ewert.
At only 18-years-old, Grade 12 student Joel Ewert is already a key member of the BC Provincial Wheelchair Rugby team.
Ewert started playing wheelchair rugby after catching the eye of rugby coaches while competing for Team BC at the 2015 Canada Winter Games in wheelchair basketball who thought he'd be a good fit for rugby. In only three short years, the teen has made massive strides in the sport and continues to improve.
While he's been playing rugby for three years, his first exposure to the sport was much earlier as Joel spent many years as a camper at BCWSA's Junior Multisport summer camp.
The camp aims to introduce children, youth and their families to a variety of sports available to them. Joel first attended the camp as an eight year old and has been one of the camp's junior leaders for the past two years.
Joel says that BCWSA has given him many great stories that he can share with his family and friends.
"I grew up in a family that played sports, my dad and brother both played hockey and they always had stories to tell after their games and wheelchair rugby has given me my own sport and my own stories to tell."
He shares more than just stories with his family though, as they often as Joel's parents Jim and Bonita have become fixtures at BC Wheelchair Sports events and often travel to cheer their son on and/or to volunteer in a number of different ways. Joel's brother Carl has also participated in the summer camp as its open to able-bodied youth as well.
"BC Wheelchair Sports has enabled our family to do family events, the whole family can be included in the sports," says Bonita adding that BCWSA has had a massive impact on her son.

"Joel's involvement in wheelchair sports has given him independence; BC Wheelchair Sports has enabled our family to participate and our child to develop into a wonderful young man. "
The talented and dedicated teen is continuing to work hard on and off the court and with big plans to study health sciences in university next fall while continuing to play wheelchair rugby for the provincial team.
You can help BC Wheelchair Sports have a positive impact on more families across the province by supporting Push4Impact.
Learn more at www.push4impact.com
If you're interested in getting involved in wheelchair rugby, please contact Kevin Bowie at [email protected]
If you're interested in getting involved in wheelchair sports in the Northern region, please contact Brandy Stiles at [email protected]