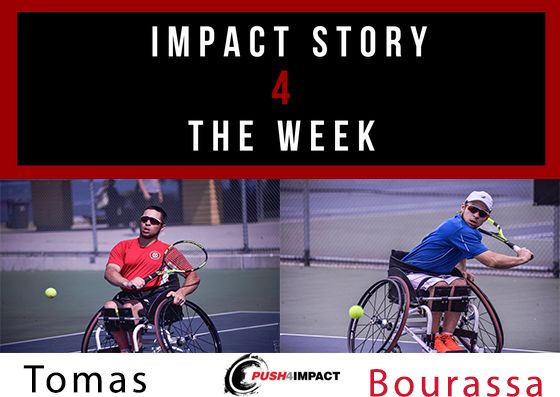 Each week leading up to Push4Impact, we'll be highlighting a BC Wheelchair Sports member and the impact that BCWSA has made on their life.
First up in our IMPACT Profiles is 18-year-old wheelchair tennis phenom Tomas Bourassa.
Tomas was BC's youngest and first junior wheelchair tennis player when he was introduced to the sport by provincial coach Steve Manley at age nine. He started playing wheelchair tennis several months after sustaining a spinal cord injury in a mountain bike accident and says the sport played a crucial role in helping him transition into post-injury life.
"After my injury, it was an odd time for me because I had to figure out what I was going to do after that," he says. "Once I got on the tennis court, I found something that I felt like I was missing and it helped a lot during that time in my life."
The new sport gave him a new passion and activity to focus on, the youngest player quickly rose in the sport and made the senior provincial team at age 15, showing no fear against much older and experienced opponents.
In 2015, Tomas opened a new door for high-school athletes with disabilities when he became the first wheelchair tennis player to play for a BC high school team. He played for Seaquam Secondary in singles and doubles with and against able-bodied players with the only modification being that the ball was allowed to bounce twice before hitting it.
At the 2016 Birmingham National Wheelchair Tennis Championships, the teenager broke out on the national stage by making the singles and doubles finals upsetting the 2nd and 3rd seeded players in singles along the way.
Tomas continues to improve and last season was his best to date as he reached a career high 13th in the ITF Junior Boys World Rankings and helped Canada qualify for the BNP Paribas World Team Cup in Sardina, Italy, a competition that he says was the highlight of his tennis career so far.
"I got to compete with other juniors from across the globe and represent Canada, which was an amazing experience that I wouldn't trade for anything."
Tomas has a come a long way from being BC's youngest wheelchair tennis player, he's travelled all over, become a high-performance athlete and is now a confident and hard-working student at Simon Fraser University.
"Tennis has done wonders for me and my health ever since I started and I can't thank BC Wheelchair Sports enough for the opportunities it's given me."
You can help BC Wheelchair Sports have a positive impact on more people with disabilities like Tomas by supporting Push4Impact.
Learn more at www.push4impact.com
If you're interested in getting involved in wheelchair tennis, please contact Michelle McDonell at 604.333.3520 ext. 208| [email protected]